President Ed Hamblin-  Life member of the OAEA.  Born 1947 in Washington state, graduated from HS in 1965 and joined the U. S. Navy in 1966.  During his career, he rose to the pay grade of E-9 (Master Chief Petty Officer), and served on numerous ships and shore commands and 3 years in Spain.  Part of his career included nearly 5 years with Operation Deep Freeze from the period 1973-1978, with a winter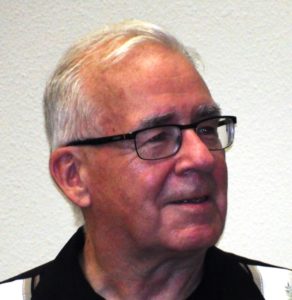 over and subsequent summer support deployments.  After his retirement from the Navy in 1995, he entered the civilian work force and did 3 1/2 years as a corporate level logistics manager.  In 1999, he returned to his "roots" and became a government contractor working with Navy ships in the Norfolk VA area until his full retirement in 2014.  He has been active with the OAEA since inception being one of the original steering committee, and since 2006 has served on the Board Of Directors, headed the Scholarship Committee, maintains the membership database and assists the Membership Committee Chairman with much of the membership admin.  He was the chairman of the 2014 OAEA reunion in Norfolk, and since 2000, has coordinated and networked with Tidewater VA OAE's, hosting a quarterly lunch.
He enjoys out of country travel with his wife Linda (also a Life member), and besides annual trips to the Caribbean and Mexico, they have traveled to Egypt, South American countries and the Galapagos Islands.  They have also taken several cruises, one of which was a 2015 cruise into the Antarctic Peninsula area.  They reside in Chesapeake, Virginia and have 2 grown sons.